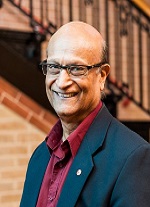 Prof. Vijaya Raghavan
Fellow of the Royal Canadian Academy of Sciences
Fellow of Indian Academy of Sciences
McGill University, Canada
Speech title:Circular bioeconomy through production and post-production related factors.
Abstract:
The current global population is presently almost 8 billion and predicted to be around 10 billion by 2050. During this period, the urban population is expected to double thus creating enormous food security challenges. The critical concern facing us are sustainability and global warming which should be addressed in all walks of life including food production, post-production, and distribution. Given this framework, it is important to take stock on where and how one could contribute to the specific steps in the 17-step plan of the FAO. Recently we had the opportunity to work on common research topics of interest of Professor Hu's group leading to the organization of this conference. Our common interest lies not only in the production systems but also in post-production systems with a view of meeting the challenges of global food security. This conference particularly addresses innovations in sensing technology. Our lab over the years has worked on both production and post-production related challenges. I attempt to summarize past and present work of our lab on circular bioeconomy that link production, post-production, and environmental factors in agriculture, and particularly in rice production. I will touch upon the following topics:
1. Quantification of machine-soil interaction challenges in production systems.
2. Practical ways of enhancing shelf-life of fresh produces shelf-life while maintaining their quality. In addition to temperature and humidity control, gas composition as well as increased pressure in the stored environment are important.
3. Drying related challenges to improve energy efficiency through enhancement of heat transfer.
4. Processing of fruits and vegetables using electro-technology for enhancing nutrients in them.
5. Use of concepts of microbial fuel cell in rice production as a unique solution for electricity generation while reducing methane production.
It gives me great pleasure to welcome all participants to the 2022 International Conference on Agri-photonics and Smart Agricultural Sensing Technologies to share the results of their work and collaborations with us.
Brief biography:
Vijaya Raghavan, Director, RSC, is a James McGill Professor in the Department of Bioresource Engineering of the Faculty of Agricultural and Environmental Sciences (FAES) at McGill University. He is Graduate Program Director for Bioresource Engineering. He was inducted into the Royal Society of Canada (RSC) in 2012, and into the Engineering Institute of Canada in 2017. He was President of the Canadian Society for Bioengineering (CSBE) from 2016 to 2017, and President of the Academy of Science of the RSC from 2017 to 2019. Prof. Raghavan has made key contributions to the development of knowledge and technologies in post-production technologies related to drying, storage, thermal and non-thermal treatments of food, valorization of agricultural and food by-products leading to more than 630 articles, 53 book chapters, and 7 patents. He has developed particulate medium-based heating and drying systems for heat treatment of grains and biological materials. He is studying the use of electro-technologies such as microwaves (MW), radiofrequency (RF), and pulsed electric fields (PEF) not only for the drying and thermal treatment of crops, but also for MW-assisted extraction of bioactive compounds from plant materials. He has directed four CIDA and one IDRC-CIFSRF funded projects in India and China, in which he has implemented his expertise in post-production technologies to assure food security and safety. These projects improved the capacity of local universities and NGOs for research and development in agricultural engineering, while sharing knowledge and appropriate technologies with farming communities to reduce post-harvest losses. Training on methods for food processing and assuring food safety has fostered the start-up of small enterprises by women self-help groups and entrepreneurs from farming communities. These activities have resulted in economic benefits to these communities and especially to the women. He has been a co-investigator or a consultant in other CIDA and IDRC funded projects in Africa and India.
Awards/Honours: Faculty of Agricultural and Environmental Sciences Award for Teaching Excellence, 1992, 1996; Maple Leaf Award of the CSAE, 1997; Outstanding Indo-Canadian Award from the National Indo-Canadian Council, 2002; Natural Sciences & Engineering Research Council of Canada (NSERC) Certificate of Achievements, 2004; Proctor and Gamble Company Award for Excellence in Drying Research, 2006; Doctor of Science (Honoris Causa), TNAU 2007, and UAS-Dharwad 2010; David Thomson Award for Excellence in Graduate Supervision & Teaching, 2007; Lifetime Achievement Award by the Drying Technology Journal, 2008; Kishida International Award, ASABE, 2017. ASABE International Food Engineering Award, 2018.
Other Fellowships: Foreign Fellow of National Academy of Agricultural Sciences, India, Indian Society of Agricultural Engineers (ISAE); Indian Institution of Engineers (IIE); American Society of Mechanical Engineers (ASME), American Society of Agricultural and Biological Engineers (ASABE); Canadian Society for Bioengineering (CSBE).
Current Research
Innovation of technologies in food, energy, and environmental nexus

High electric field drying and processing of thermosensitive food products

High pressure pre-treatment for extending shelf life of produce without refrigeration

Energy from microbial fuel cells using organic waste as a carbon source

Microwave-assisted production of biochar and hydrochar from different biomasses

Physicochemical properties of different biochar and effects on properties of different soils

Extraction of lipids and valued compounds from microalgae

Microwave assisted retting of flax and hemp straws

Enhancing food security in Africa through improvement of rice post-harvest handling, marketing and the development of new rice-based products

Innovations in postharvest technologies for food security and safety, and for value addition to agricultural residues

Properties of different membranes for use in controlled atmosphere storage.
To date, the results of the work by his research group have generated over 650 papers in peer-reviewed journals, 55 book chapters, over 850 conference papers, and 7 patents, and have been applied with much success in the field in four CIDA-funded projects and one IDRC-funded project to address the issues of food security and safety in India. An estimated 30% of crops and produce in developing countries are lost after being harvested as a result of damage and spoilage. Losses occur at every step of the chain of events from the field to the market as a result of mishandling during sorting and transport, of poor storage conditions that leads to spoilage and infestation by insects and pests, and of inadequate packaging for market. Post-harvest losses are not only that of quantity but also of nutritional quality of the produce. Preventing or reclaiming these losses by implementing adequate storage methods and by processing the food would provide a means of addressing food insecurity problems, and also provide the resources to deal with problems of poverty, malnutrition, and hunger.